Irish Aid Launch Research Strategy at Research Funding Workshop
Issued 22 September 2015
Irish Aid, Ireland's overseas development agency launched their research strategy today at a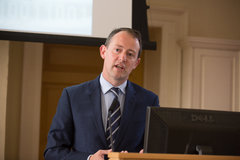 workshop organised by DSA IRELAND, the Trinity International Development Initiative (TIDI) and 3U Global Health.  
'The Strategy outlines how Irish Aid will help shape the future development research agenda through targeting the most pressing development issues affecting the poor. It places emphasis on ensuring that the research we support is of high quality, well communicated and used effectively to influence policy and programmes. We will prioritise the need to build research capacity where it is needed most, across research partnerships, institutions and networks at country level.'
The Research Funding Workshop brought together researchers, development practitioners and private industry, to explore and create opportunities to pursue research on international development, which utilises the unique expertise of each sector.
It provided an opportunity to:
Outline the main sources of funding in international development-related research projects with a particular emphasis on H2020 opportunities;
Identify the markers for success according to funders and successful grant recipients;
Hear about MSME's (Micro Small and Medium Enterprises) and SME's (Small and Medium Enterprises) delivering development;
Network and build research partnerships with others from HEI's, NGO's and private sector backgrounds;
Learn how to develop and sustain equal partnerships with partners in the global south;
Explore critical and innovative approaches to the role of trade in development according to academic experts.
Minister of State for Development, Trade Promotion and North-South Co-operation, Sean Sherlock, opened the workshop and launched Irish Aid's Research Strategy.  The Workshop was addressed by the following experts:
A Panel of Principle Investigators from Successful International Development Research Projects;
A Panel of Research Programme Officers with expertise on research calls for international development projects;
Representatives from Small and Medium Enterprises (SMEs) and Micro Small and Medium Enterprises (MSMEs) working in industry in the global south;
Development Practitioners working with Higher Educational Institutes in partnership for international development research.
Presentations from the workshop can be viewed here.
A soft copy of Irish Aid's Research Strategy is available here.  Findings from the Research Funding Worshop will be made available on the DSA Ireland website in due course.