Presentations from Nutrition and WaSH Integration, Research and Future Challenges now available
Issued 4 June 2015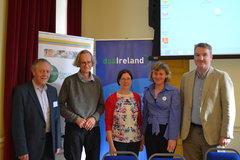 On Tuesday 19 May 2015, the Development Studies Association Ireland, Irish Aid and the Irish Forum for Global Health were delighted to host this half day seminar with keynote address from eminent academic, practitioner and WASH advocate, Prof. Robert Chambers, Research Associate, Institute of Development Studies (IDS).
The seminar brought together academics, practitioners and policy makers, working in the areas of nutrition and WASH, two principle elements of Primary Health Care, to share a common understanding of the challenges faced in integrating these programmes, highlight the research gaps in these areas and stimulate collective action and look at how an integrative approach can prevent diarrheal disease and under-nutrition and improve health outcomes.
A report of the seminar, including key points and learnings are avilable on the DSA Ireland Blog - 'Shit Stunts: Refocusing Priorities in Nutrition and WaSH' by Siobhan Nestor, clinical nutritionist and active member of the Joint DSA Ireland / IFGH Child Health, and Nutrition Groups. 
Presentations from this seminar are now available as follows:
For further information on the Nutrition Study Group, please contact the Nutrition Study Group Convenor, Jacinta Greene at greene_jo@hotmail.com