Presentation of the Inaugural Robert Chambers Award
Issued 2 June 2015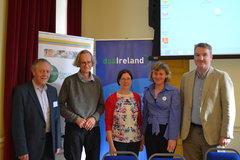 DSA Ireland are delighted to announce the winner of the inaugural 'Robert Chambers Award', as Prof. Padraig Carmody of the TCD Geography Department, whose paper, "It is Easy to Rule a Poor Man: "Ecolonisation" and the politics of Land Grabbing in Uganda", he co-authored with Prof. David Taylor. The paper was judged the most innovative paper presented at the last DSA Ireland Annual Conference (2014), having the potential to make a significant contribution to strengthen the empowerment of the world's poor to achieve just and sustainable development.
This award was presented to Prof. Carmody by Prof. Robert Chambers at 'Nutrition and WaSH Integration, Research and Future Challenges', a seminar organised by DSA Ireland, Irish Aid and the Irish Forum for Global Health on Tuesday 19 May 2015.  A short synopsis of the paper is available here: http://www.tcd.ie/news_events/articles/ecolonisation-why-a-greener-future-paints-a-less-than-rosy-picture-for-africa/5645#.VW2HV9JViko
Unfortunately as this paper is under consideration for journal publication, we cannot provide a copy, however you can find a link to the presetation, which was made at the DSA Ireland Annual Conference (2014) here.  Should you have any queries about this paper, you can contact the author at: CARMODYP@tcd.ie.  
Full details on the Robert Chambers Award are available here: http://www.dsaireland.org/news/2014/11/19/announcement-robert-chambers-award/. 
Further details of the seminar 'Nutrition and WaSH Integration, Research and Future Challenges' are available on the DSA Ireland Blog here: http://www.dsaireland.org/blog/2015/05/28/shit-stunts-refocusing-priorities-in-nutrition-and/