Annual Conference 2017
DSA Ireland Annual Conference 2017: "Development through Rights: Theory, Policy and Practice in a Changing International Context"
Date : 23-24 November 2017
Venue : Education & Research Centre, Our Lady's Hospice & Care Services, Harold's Cross, Dublin 6W

Note : There will be parking restrictions in place from 5pm on the Thursday evening. 
Programme: Download the conference programme (PDF)
Register for Membership and/or Conference
 

Keynote speakers

We are delighted to announce that  Andrew Gilmour, Assistant Secretary-General for Human Rights  will be the keynote speaker for the conference. 
Andrew Gilmour of the United Kingdom assumed his functions as Assistant Secretary-General for Human Rights on 1 October 2016, heading OHCHR's Office in New York. In October 2016, Mr. Gilmour was designated by the Secretary-General as senior official to lead the efforts within the UN system to address  intimidation and reprisals against those cooperating with the UN on human rights.  In his previous position, which he held since 2012, as Director for Political, Peacekeeping, Humanitarian and Human Rights affairs in the Executive Office of the Secretary-General, Mr. Gilmour was responsible for spearheading the implementation of the Human Rights Up Front initiative .
Since joining the United Nations in 1989, he has held a variety of positions both at the United Nations Headquarters and in the field, including in Afghanistan-Pakistan, Kosovo, Middle East and West Africa.  In recent years, he has served as Deputy Special Representative of the Secretary-General in Iraq, and in South Sudan and was the Representative of the Secretary-General in Belgrade. Before joining the United Nations, Mr. Gilmour was an adjunct fellow of the Center for Strategic and International Studies in Washington, D.C., and worked in the fields of politics and journalism.  He has contributed articles for a wide range of publications throughout his career. 
He holds master's degrees from Oxford University in History and also the London School of Economics in History and Government. Mr. Gilmour, who is Scottish, was born in 1964. He is married with four children.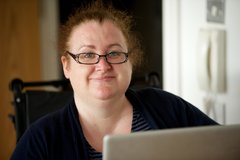 Dr Mary Keogh has worked for over 15 years at an international level on disability rights and international development. She completed her doctorate in 2014 at the Centre for Disability Law and Policy at NUIG. Her research focus was a comparative analysis of how the US, Finland and Australia mainstream disability in their development aid programmes. She currently works with CBM International as Senior Advisor on Disability and Gender Equality.
Prior to this,  Dr. Keogh worked with CBM Australia as Inclusive Development Advisor and CBM Ireland. She also worked with the International Disability Rights Monitor (IDRM), where she was the coordinator of the IDRM European regional report and authored the Irish report. She has also written reports for the UN on inclusive development and most recently contributed to the development of the CRPD committee general comment on women and girls with disabilities.
Dr. Keogh has authored a publication on: How to make international development disability inclusive , and is a co-author of Inclusion Counts - The Economic Case for Disability-Inclusive Development . Dr. Keogh is the former chair of the Dochas Working Group on Disability and International Development. The working group has been in existence for over 10 years and seeks to influence the Irish government and also Irish development and humanitarian organisations to ensure persons with disabilities are included in Ireland's overseas aid commitments. Her research interests are intersectionality and gender and disability.


Dr. Su-ming Khoo is a Lecturer in the School of Political Science and Sociology at the National University of Ireland, Galway. Her research, teaching and publications are focused on human rights, public goods, development alternatives; human development and capability approaches, alternative economics, consumer activism, higher education, internationalization and public scholarship. https://nuigalway.academia.edu/SumingKhoo


Prof. Doug Bourne is Professor of Development Education at University College London-Institute of Education. Co-Director of Development Education Research Centre, he is academic advisor to Global Education Network Europe and author of The Theory and Practice of Development Education (2015). Prior to being Director of the Centre, Prof. Bourne was Director of Development Education Association in England (now called Think Global). He is a member of UK government advisory panels on development awareness, sustainable development education and global dimension to citizenship.
Statement from Jim Clarken, CEO of Oxfam Ireland
'Oxfam Ireland is a rights based organisation, in practice, this means we believe the realisation of human rights will help lift people out of poverty and injustice, allow them to assert their dignity and guarantee sustainable development. We work to ensure that this is core to all of our long-term development, humanitarian, and advocacy programmes. As such, we are thrilled that the DSAI has chosen the theme of "Development through Rights: Theory, Policy and Practice in a Changing International Context" for this year's conference. We are delighted to have been selected to present our work in this exciting and collaborative space. We are very happy to have been able to support one of our Zimbabwean colleagues and a Zimbabwean partner to travel to this year's conference, not only to have them present their work, but also to expose them to a wide range of related human rights work, both academic and practical.' –Jim Clarken (Oxfam Ireland CEO)