Nutrition Study Group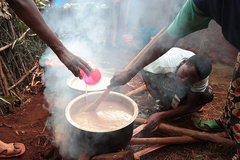 photo credit: Burundi Nutrition via photopin (license)The nutrition group is a small working group open to all with interest in nutrition, food security and health which was created to address nutrition issues in development. The initial proposal for a working project evolved from a workshop help in June at UCD which highlighted the gaps that existed in the provision of nutrition education in development studies in Ireland. The group will explore the potential to develop a National strategy for nutrition in development studies, with clear aims and objectives and a roadmap as to how to achieve them. 
In developing this document existing nutrition education with online and distance learning will be explored and proposals to integrate further nutrition education and formalise qualifications by linking with the Association of Nutrition. Niche courses focusing on specific defined area e.g. scaling up nutrition (SUN) or Nutrition in emergencies can also be considered.  The group will also propose methods of strengthening strategic partnerships with national and international Universities and NGO's involved in development studies and  with an interest in health and nutrition and reflect on ways of improving the framework of training students. 
The nutrition group is inclusive to all and those with new proposals are particularly welcome to join and use the network to explore their ideas and utilise the skill mix and expertise of the group. 
Interested people are encouraged to contact Nutrition Study Group Convenor, Jacinta Greene at greene_jo@hotmail.com or info@dsaireland.org for further information.  Meetings will be advertised on the DSAI website and through e-mail updates.