Education Study Group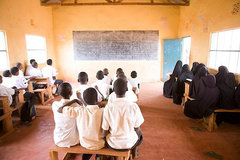 photo credit: Buruburu primary school in Kenya via photopin (license)An Education Study Group is being established within DSA Ireland to bring together both academic and NGO interests to address education issues in the context of international development.
The group will encourage collaborative projects between researchers in Ireland as well as on a Global North-South basis as well as developing a dialogue with practitioners.
It is hoped that special seminars will be arranged from time to time and that the DSA Ireland Annual Conference will include sessions devoted to education research reports. 
The study group is currently being organised by:
Prof. Linda Clarke, School of Education, University of Ulster
Prof. Paul Conway, Education Professional Studies, University of Limerick
Prof. Sean Farren (Convenor), DSA Ireland Chair
To join this study group, or for further information, please contact David Worsley, DSA Ireland Coordinator at info@dsaireland.org, stating your institution/ngo, area of interest/research and any suggestions for activities.