Civil Society Study Group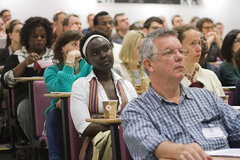 photo credit: Africa Gathering London via photopin (license)A Civil Society Study Group has been established within DSA Ireland to bring together both NGO and academic interests to address some of the critical challenges facing NGOs as they move towards the next development paradigm, beyond the Millennium Development Goals.  This group will explore the intersections  of research, policy and practice and will look at how this these produce evidence of real change in the most vulnerable communities around the world.
Beyond Aid and Welfare – does good governance bring about solidarity?  What will the next development paradigm be and how can we influence it?  How to fight poverty during times of neoliberal globalization and increasing inequality?  What is the function of civil society and the role of NGOs in terms of their support for social movements?  Can we/should we maintain the current aid paradigm of harmonization, alignment, recipient ownership, new partnerships or do we need to reflect about the economic system? 
There is considerable research on the decrease in civil society space, the influence of the security agenda on aid and the subordination of human rights to economic priorities. But what comes next? How are civil society and its various constituent actors going to bring about change and increase their internal solidarity? Can the current technical approach to civil society strengthening within good governance programmes change the structures that reproduce sub-alteration?  Do we need a new aid and development paradigm and what might this look like and be taken forward from the various civil society actors, in particular NGOs?
Which forms of solidarity and cooperation in a globalized world can change structures that continue producing poverty and exclusion?  
The group will encourage collaborative projects between NGOs and researchers in Ireland, aiming in some way to surmount some of the challenges faced by joint research projects.  seminars will be arranged from time to time and the DSA Ireland Annual Conference will include sessions devoted to collaborative NGO/academic research reports/debates. 
Convenors:
Dr. Su-Ming Khoo, NUIG 
To join this study group, please contact suming.khoo@nuigalway.ie.