Study Groups
DSA Ireland Study Groups are open to all DSA Ireland members.  Study Groups are an opportunity for members to link with those who have an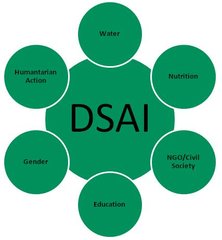 interest in the same research area in international development. Each group is run by a Convenor with experience and/or expertise in that area.
Meetings for each group varies, depending on interest and availability of members.  Some groups meet as a group and some groups meet virtually (i.e. via Skype or in other virtual spaces).
Activities that Study Groups are involved in are include among others:
Occasional seminars/workshops focused on new research
Collaborative projects on key thematic areas
Conducting research and supporting new research initiatives
Engaging in dialogue with other researchers and practitioners
Participating in thematic sessions as part of the programme of events at the DSA Ireland Annual Conference
Study Groups grow organically within DSA Ireland, based on interest of members.  The activities Study Groups will be involved in depends on the needs and interests of members and may incorporate other activities not listed above.  If you are interested in forming a study group, please contact the DSA Ireland Coordinator, Mairead Finn at: info@dsaireland.org for further information.